Social Media Marketing for Businesses
Social media marketing is a powerful way for businesses of all sizes to reach prospects and customers. People discover, learn about, follow, and shop from brands on social media, so if you're not on platforms like Facebook, Instagram, and LinkedIn, you're missing out! Great marketing on social media can bring remarkable success to your business, creating devoted brand advocates and even driving leads and sales.
This complete guide to social media marketing, will teach you how to:
What social media marketing is, with benefits, stats, and tips.
How to build a social media marketing strategy and a plan to carry it out.
The seven best social media marketing platforms and how to use them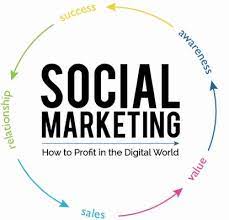 What is social media marketing?
Social media marketing is a form of digital marketing that leverages the power of popular social media networks to achieve your marketing and branding goals. But it's not just about creating business accounts and posting when you feel like it. Social media marketing requires an evolving strategy with measurable goals and includes:
Maintaining and optimizing your profiles.
Posting pictures, videos, stories, and live videos that represent your brand and attract a relevant audience.
Responding to comments, shares, and likes and monitoring your reputation.
Following and engaging with followers, customers, and influencers to build a community around your brand.
Social media marketing also includes paid social media advertising, where you can pay to have your business appear in front of large volumes of highly targeted users.
Benefits of social media marketing
With such widespread usage and versatility, social media is one of the most effective free channels for marketing your business today. Here are some of the specific benefits of social media marketing:
Humanize your business: Social media enables you to turn your business into an active participant in your market. Your profile, posts, and interactions with users form an approachable persona that your audience can familiarize and connect with, and come to trust.
Drive traffic: Between the link in your profile, blog post links in your posts, and your ads, social media is a top channel for increasing traffic to your website where you can convert visitors into customers.
Generate leads and customers: You can also generate leads and conversions directly on these platforms, through features like Instagram/Facebook shops, direct messaging, call-to-action buttons on profiles, and appointment booking capabilities.
Increase brand awareness: The visual nature of social media platforms allows you to build your visual identity across vast audiences and improve brand awareness. And better brand awareness means better results with all your other campaigns.
Build relationships: These platforms open up both direct and indirect lines of communication with your followers through which you can network, gather feedback, hold discussions, and connect directly with individuals
Start prioritizing your social media marketing strategy
Using social media in marketing does more than improve site traffic and increase your reach. It turns your business into a personality that your audience can communicate and connect with on a deeper level.
Regardless of which platforms you use or how you use them, the most important thing to remember is that social media is not a platform to pitch your business. It's a community for you to express your personality, demonstrate your values, share useful information, and build up those around you. With people naturally following you and promoting your content, there will be no need for pitching. And with this approach, you'll achieve not just your business goals but all of the other intangibles that translate to gratification and fulfillment.